TRAORE/COULIBALY Maminata
Biomedical scientist, MSc, PhD.
Studied at University of Ouagadougou, Burkina Faso and Danish Faculty of Pharmaceutical Sciences, University of Copenhagen.
Research activities focused on infectious diseases – preclinical and clinical evaluation of medicines and phytomedicines – Biochemistry.
Has successfully achieved around 15 founded projects as investigator and co-investigator.
Academic Position
– CAMES Director of Research, since 2018
– Teacher at Catholic University (UCAO) in Bobo-Dioulasso, Burkina Faso and at University Nazi Boni
– Supervision of PhD, Master, Pharmacy and Medicine theses, around 18.
Administrative position
-Scientific Director of the Regional Direction of IRSS, based at the Clinical Research Unit of Nanoro, since 2016.
– Head of the Department "Studies and Monitoring-Evaluation" 2014-2016
– Head of the Department "Studies and Planning", 2013-2014
– Member of AVAREF/OMS technical committee, 2016-2020
– Member of the national health ethics committee (CERS), 2013-2020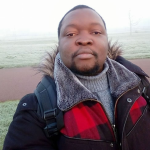 Francois Kiemde Prev post
Paul Sondo Next post