Biography
Ousmane TRAORE earned his MSc and PhD in applied biology at Nazi Boni University, Bobo-Dioulasso (Burkina Faso). From 2008 to date, his research focuses on immunology and parasitology. During his MSc training, he developed an operational procedure for antisera production locally for serological diagnosis of parasitosis. At PhD level, he made agroundbreaking work on the immunological basis of placental malaria and described a possibility to develop an alternative diagnostic tool to detect malaria early in pregnancy. He has a decade of experience in clinical research (drugs and vaccines) on malaria. As research assistant at the Clinical Research Unit of Nanoro – Research Institute of Health Sciences, Ousmane TRAORE is currently serving as lab manager on a Phase II malaria vaccine trial (since January 2019). In parallel he undertook to find funding for his own researches.
Email: ousmane.traore@crun.bf
Personal Statement
I am highly interested in infectious diseases, particularly malaria research applied to maternal and infant health, specifically understanding the relationship between immune responses and recommended interventions against malaria. In addition, I foresee to undertake some preclinical immunological researches, in order to promote traditional therapeutic recipes.
Selected Peer-reviewed Publications (See in Publication Section)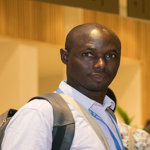 Salou Diallo Prev post
Francois Kiemde Next post